About Me
A native of Indiana and a former long-time resident of Massachusetts, since 2005, I've lived here in the frozen tundra of Minneapolis, Minnesota mostly trying to stay warm.
The Job
After a degree in Criminal Justice and a brief time in law enforcement, I've spent the last seventeen years working for Target Corporation in various roles in our Assets Protection (Loss Prevention) team. I've led teams in Cleveland, New Jersey, and New England – and worked in roles as diverse as investigations, crisis management, technology development, design, and innovation.
Since 2009, I've led Target's Global Crisis Management Team. In this role, I lead a diverse team of executives in a comprehensive effort to mitigate risk, minimize loss and business disruptions, and provide a safe and secure environment for Target and the communities we serve. My areas of responsibility include business continuity management, crisis operations, global intelligence, and Target's two corporate command centers.
Our team was featured in a recent article in the Minneapolis Star-Tribune.
In April 2011, I was named Chairman of the Private Sector Committee for the National Emergency Management Association.
I'm a frequent conference attendee and speaker. You can see my speaking page for more information.
If you're really interested in the full career history, you can grab that over at my LinkedIn profile or you can read my work biography.
The Person
I'm a creative technologist at heart. I'm fascinated by the design aesthetic, the ability to be creative, and the deep thinkers who are able to make leaps of thought that allows individuals and teams to innovate. I'm obsessed with keeping my life simple and finding more time to be creative.
The Online Life
In one form or another, I've been online since 1990 when I was a student at The Indiana Academy. I've been blogging here since 2000 with a brief hiatus from February 2006 until early 2007.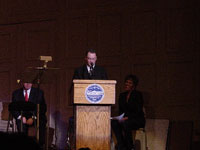 I'm an avid World of Warcraft player. My main character is a Shadowpriest named Delduwath.
As of July 2010, I am a NRA Certified Instructor & Chief Range Safety Officer, eligible to instruct NRA First-Steps Pistol, NRA Basic Pistol, NRA First-Steps Rifle, NRA Rifle, NRA Home Firearms Safety, Range Safety Officer, and NRA Personal Protection in the Home. In March 2011, I also became a Certified Instructor of the Minnesota Association of Defensive Firearms Instructors. This certification allows me to teach Minnesota Permit to Carry courses under the auspices of MADFI. I'll be adding other disciplines in the near future.
Beyond that, I read interesting books, I travel, I think, I live my life.
Disclaimer
This blog does not represent the views of my employer. They may or may not agree with what I choose to write here.
If you've come here looking for some deep & dark secrets about Target, you're in the wrong place. What you'll get here though is pure, unadulterated me.